Buy a 2021 Chevy Camaro in Joplin, MO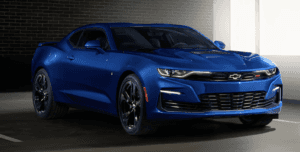 Most of us own a vehicle, but only the rare few can own an icon. Since 1967, the Chevy Camaro has been helping adventurous Americans love the drive. With the new 2021 Camaro, that long history of bringing the thrill of driving to more people lives on with more style, more power, and more fun than ever. Ready to buy a 2021 Chevy Camaro in Joplin, Missouri? Then come see us today at Landers Chevrolet Cadillac of Joplin, where we have the 2021 Camaro in stock and ready to rumble, with big power and bigger attitude, and aggressive style. Come see us today for a test drive, or check out our full selection of 2021 Chevy Camaro models at our website right now. 
CLICK HERE TO SHOP OUR SELECTION OF 2021 CHEVY CAMARO MODELS 
HERE'S LOOKING AT YOU KID: A modernized and updated take on the iconic shape of the first-generation 1967-69 Camaro models, the 2021 Chevy Camaro is hot rod art on wheels, featuring the classic long nose/short deck/low roof profile that made the Camaro a groundbreaking ride when it first hit the scene. Out front, there's a large, low-set grille that funnels cool air to the engine while reducing wind noise and aerodynamic drag, while a performance-look rear spoiler finishes out the back. Available in either coupe or convertible models, the 2021 Chevy Camaro is all about bringing a muscular attitude and a leather jacket cool to your daily drive. Inside, a cockpit-style interior invites you to sit down and get busy learning to love driving again in a space that's equal parts 21st Century and retro-cool. 
PERFORMANCE ON POINT: The Chevy Camaro has always been about soul-stirring performance. The 2021 Chevy Camaro carries on that long history of horsepower with a four-engine lineup that's simply second to none. Looking for the perfect blend of power and fuel efficiency? Then you're looking for the 3.6-liter V6, a muscular modern marvel cranking out a searing 335 horsepower and 284 lb.-ft. of torque from just 219 cubic inches. Believe there's no replacement for displacement? Then the available 455-horsepower 6.2-liter LT1 V8, standard on the 2021 Camaro LT1 and SS, can help you feed the need for speed. And if you want the ultimate E-ticket ride, step up to the legend: the 2021 Camaro ZL1, with the 6.2-liter LT4 supercharged V8, delivering an incredible 650 horsepower for zero to 60 times of 3.5 seconds. 
SUPERIOR SAFETY: Along with speed you need safety, and the 2021 Camaro doesn't fall short on either. With an ultra-high-strength steel safety cage built right into the body structure and active safety technologies to help you avoid potential collisions, the 2021 Chevy Camaro always has your back. Safety features include a standard rear-view vision camera, an available Rear Cross Traffic Alert and the Rear Park Assist. These are just a few of the extra precautions provided so you can feel safe and confident while getting the full experience of driving the new 2021 Chevy Camaro!
Does the thought of another work commute make you wish somebody would hurry up and invent the teleporter? Maybe the issue is your car! Only one way to find out: come see us today at Landers Chevrolet Cadillac of Joplin and test drive a new 2021 Chevy Camaro today, or shop our full selection of 2021 Camaro models at our website right now. We look forward to exceeding your expectations, at Landers.