Chevy debuts the all-new 2022 Chevy Bolt EV sedan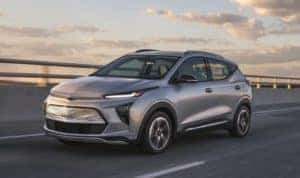 With Chevrolet parent General Motors announcing plans to phase out all gasoline and diesel light-duty vehicles by 2035, Chevy knows they've got to get a move on if they want to design, build and field the next generation of all-electric vehicles.

The brand recently got a big jump on that ambitious goal with the debut of the all-new 2022 Chevy Bolt EV sedan. Dropped at the same time as the 2022 Bolt EUV all-electric compact SUV and built on the same platform, the 2022 Chevy Bolt EV sedan is the all-electric vehicle for the rest of us, with both an affordable price and the fast charging and range many Americans need to make an all-electric car fit into their lives.

Part of making electric vehicles appealing is making them affordable for more people. Starting at just $31,995, the redesigned 2022 Chevy Bolt EV sedan is actually around $5,000 less expensive than the 2021 Chevy Bolt EV, the model which it replaces.

Granted, the 2022 Chevy Bolt EV isn't as affordable as other Chevy sedans straight off the lot, but when you consider government tax rebates for buying an electric vehicle, along with never having to spend money for a fill-up or oil change again, and the 2022 Bolt EV starts looking very affordable indeed.

Another thing the 2022 Bolt EV has going for it is incredible, cutting edge style, including a more vertical front fascia than the previous model, a cantilever-look roofline, and new all-LED front and rear lighting. Inside, the 2022 Bolt EV is surprisingly spacious, with seating for four, a 10,2-inch infotainment screen and clean, user-friendly knobs, switches and gauges designed to emphasize the Bolt as a vehicle of tomorrow you can own today.

Another big hurdle for adoption of electric vehicles by average families is worry about charging and range. The 2022 Bolt EV makes both of those concerns a thing of the past thanks to advanced GM battery technology.

The 2022 Bolt EV relies on a 65-kilowatt hour lithium-ion battery pack to deliver a stellar 259 miles of range on a single charge, which is more than enough for the average American's weekly driving.

Worried about reliability now and in the future? The 2022 Bolt EV battery and propulsion system is covered by Chevy's 8-year/100,000 mile limited battery warranty.

Time to charge? Chevy makes it easy to utilize either 120-volt or 240-volt plugs thanks to their switchable Dual-Level Charging cord. Need to charge on the go? The 2022 Bolt EV is compatible with most public fast chargers, which can add an additional 100 miles of range for every 30 minutes of charging.

The future is now, and the 2022 Chevy Bolt EUV is leading the way. Are you ready to buy a 2022 Chevy Bolt EV or EUV in Joplin, Missouri? While we still have a little while to wait before the 2022 Bolt vehicles hit our lot, stop in today, talk to one of our friendly finance pros, and be one of the first in our area to help lead America toward a cleaner, brighter and more sustainable future.