April: National Month of Car Care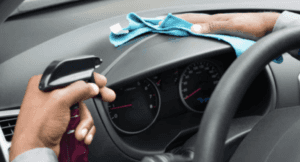 Not only is the month of April about Easter but it's also National Month of Car Care. And what better way to usher in springtime than to give your vehicle some TLC. For the best performance, vehicles need regularly scheduled maintenance and routine upkeep. It feels wonderful to hop into a clean vehicle and embark on a fun road trip. If you're not really sure where to start, we've got you covered. Landers Chevrolet Cadillac of Joplin is here to assist our customers by offering some great tips for spring cleaning for your car!
EXTERIOR TIPS: While nobody likes the idea of scrubbing away at poop from a passing bird, it's not something to wait on. Waiting too long to clean bird droppings or bug guts off your car can cause damage to the exterior paint or clear coat. A suggested helpful cleaning tip to getting bird poop off your vehicle without damaging the exterior paint: spritz a little WD-40 on the area, let it sit for approximately a minute, then rinse or wipe away with a soft cloth.
ROUTINE MAINTENANCE: Along with routine oil changes, check your vehicle's fluid levels to see if they are at the optimal operating levels. Other things you want to check as well, your vehicle's cabin air filter to see if it needs to be replaced. Not only does a fresh air filter keep your vehicle breathing well, but a clogged filter can also severely impact your fuel economy and even make some vehicles bypass the filter altogether, allowing dirty air to enter your engine. Check to see if your vehicle has enough windshield wiper fluid, and while the vehicle's hood is up, clear out the dead leaves. 
AVOID TIRED TIRES: The pressure in your vehicle's tires has fluctuated due to outdoor seasonal temperature changes. Avoid an underinflated tire or your gas mileage goes down and the risk of having a flat tire goes up. If the tire is overinflated, there's the risk of a dangerous blowout. Therefore it's good to have a tire gauge handy in the glove box. The recommended PSI (pounds per square inch) is between 30 to 35. Check your automotive manual for your vehicle's recommended PSI. Most gas stations will have air compressors, or go to your local tire store. The technicians will be able to check your tire pressure and air up your tires for free.
WINTER BE GONE: Make room for Spring by clearing out the extra pair of winter gloves, ice scraper, and tire chains. This is also a great opportunity to clean all the windows, vacuum the upholstery,  and give your vehicle a once-over with car cleaning wipes for a fresh feel. Also, it's not too bad of an idea to wipe down the interior with a protectant so to protect the vinyl or leather from UV rays. Too, no matter what season we're in, it's very practical to keep some items like a flashlight with fresh batteries for emergencies, — to help keep everyone safe until Covid-19 is completely beaten and done —  a package of disposable face masks and a bottle of hand sanitizer.
We hope these few suggestions for spring cleaning your vehicle are helpful. At Landers Chevrolet Cadillac of Joplin, our customers are our main priority. We are ready to serve our great community. Let us assist you when the time comes for you to buy your next new vehicle. If your car is in need of maintenance or service, you can schedule a service maintenance appointment online. 
CLICK TO CONTACT THE LANDERS CHEVROLET CADILLAC SALES TEAM