Chevrolet Supports Breast Cancer Awareness Month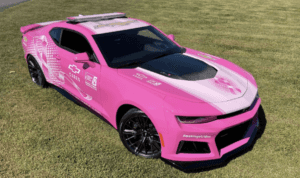 October is Breast Cancer Awareness Month and Chevy has long been a supporter of awareness, fundraising, and research. Chevrolet is once again supporting the American Cancer Society in the fight against breast cancer by contributing money via the #WeDriveFor social media campaign and with a NASCAR partnership. 
CHEVY STRIDES: For the 11th consecutive year, Chevrolet has partnered with the American Cancer Society's "Making Strides Against Breast Cancer" initiative through dealership walks, national test drive promotions and national service rebate promotions. Chevrolet will donate $5 for every post on Twitter, Instagram, and TikTok using the hashtag #WeDriveFor, for a total of $110,000. 
PINK CAMERO: Chevy will also contribute $350 for every lap under caution for a maximum of $50,000 during three NASCAR races this month. At the NASCAR Cup Series, there will be a specially-themed pink "Making Strides Against Breast Cancer" Chevrolet Camaro ZL1 which will serve as the pace car at the NASCAR Cup Series races at Talladega Superspeedway in Alabama on Oct. 3, Texas Motor Speedway in Fort Worth on Oct. 17, and Martinsville Speedway in Virginia on Oct. 31. 
Chevrolet will also host a limited number of breast cancer survivors and guests at Talladega and Texas Motor Speedway, offering them a fun-filled afternoon at the track.
"We are very proud to partner with the American Cancer Society and carry the ACS logo on the pace car during October races," said Sean Finegan, director of Chevrolet Motorsports Marketing and Activation. "The responses we receive at the tracks are always so positive, and we're very humbled that we're able to participate in this cause."This is in efforts to raise awareness of breast cancer." 
Chevrolet is all about community and providing the best service and products to its customers. We at Landers Chevrolet of Joplin, Missouri are very proud to be part of this wonderful cause and will do our part in the continuing battle against cancer. When you want to be part of the Chevy family and experience owning a quality Chevy, stop by Landers Chevrolet of Joplin. We are here for you!