Is Your Car Ready For Summer?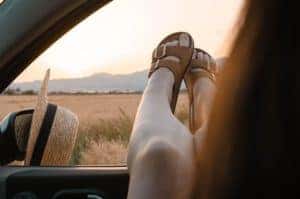 It's May and summer is right around the corner. Warm temperatures, long sunny days, and beach destinations are calling you and your vehicle's name. Just like how you should prepare your vehicle for sub-zero winter temperatures, it's a good idea to make sure your vehicle is also ready for the 100-degree days that are quickly approaching.
Arguably, one of the most important pieces of equipment to make sure is operating on your vehicle is the air conditioning system. A marginally working system will fail once you blast that cool air after your vehicle has been sitting in a hot parking lot. We can examine your system and make sure that all the parts are up to snuff. Most newer models have a cabin air filter that feeds into the system so you need to make sure that it is clean of debris and other particles. This can be done very quickly and cheaply, helping your AC work more efficiently.
According to the National Institute of Automotive Service Excellence, the most common cause of summer breakdowns is overheating. The cooling system should be completely flushed and refilled about every 24 months. The level, condition, and concentration of the coolant should be checked periodically. (A 50/50 mix of antifreeze and water is usually recommended.) DIYers, never remove the radiator cap until the engine has thoroughly cooled! The tightness and condition of drive belts, clamps, and hoses should be checked by a pro. We would be happy to perform this service for you at Landers Chevrolet Cadillac of Joplin!
Lastly, make sure you are up to date on all scheduled maintenance. Oil changes, tire rotations, and the fluids on your vehicle should be clean and topped off. Your tires should have plenty of tread depth and no bubbles in the sidewall. Make sure your windshield wipers are smooth and don't streak the windshield. It would be bad to get caught in a summer storm with old wipers!
If you have any questions or would like to schedule your summer service special, give us a call at Landers Chevrolet Cadillac of Joplin, Missouri!