Ways to Relive Stress in Your Car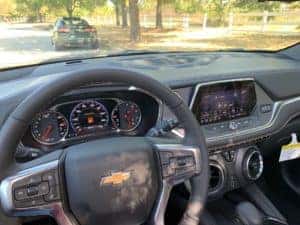 We are living in stressful times right now with the uncertainty of what's ahead. This unprecedented pandemic has put plans on hold, canceled celebrations, and made us more aware of who we are. If there is anything we know, it's cars. Being stuck at home allows your experience in your vehicle to be special now that riding in the car is a luxury for most people. If you're getting tired of sitting at home, escaping to your car is a good plan to break up the monotony of stay-at-home life.
Sitting in your car and listening to your favorite songs is a good way to relieve stress. Crank up the tunes on your Bose sound system available on most new Chevy and Cadillac models and sing along! If sing-a-longs aren't your thing, there are plenty of calming songs and playlists to help you get into a tranquil state of mind.
Bring your favorite snacks with you or make a special trip to get your favorite local treat! Whether it be a smoothie, coffee, milkshake, or any other local eats, make sure you stay socially distant while grabbing your treat!
Take a drive just because! Drive for the journey and not the destination. There are plenty of beautiful drives in Southwest Missouri. Take the curvy route through the Mark Twain National Forest or through the Roaring River Area.
There are plenty of features in new Chevrolet and Cadillac models to aid in your relaxation. We already mentioned the premium Bose Sound System for your tunes but there are also super soft leather seats that have heating, cooling, and massaging functions!
Let your vehicle pamper you this week and go relieve some stress. Remember to be kind and support local businesses and charitable organizations during this strange time in all of our lives. Landers Chevrolet Cadillac of Joplin, Missouri is here if and when you need us.