Sneak Peek: The All-New 2022 Chevy Silverado 1500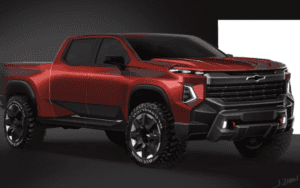 America's beloved midsize pickup the Chevrolet Silverado 1500 is getting a facelift, literally. Not only is the iconic Chevy bowtie emblem getting placed higher on the Silverado's grille but the 2022 Chevy Silverado 1500 is getting a significant mid-cycle enhancement (MCE)– for the 2022 model year. So what does this terminology mean for us diehard Chevy fans and Silverado enthusiasts? It means that the new 2022 Silverado 1500 will please existing customers and attract newcomers over to the Chevy side of life. 
EXTERIOR: So what does this new GMC term – mid-cycle enhancement (MCE) – specifically mean? It means that the all-new 2022 Chevy Silverado 1500 is expected to deliver significant refreshed and enhanced features. Expected changes for the exterior include front and rear fascia, hood, front fenders, box, and the entire rear end, including the rear fenders, tailgate, and tail lights. This includes Chevy's bowtie emblem's latest iteration and being placed higher on the grille component. There will also be new wheel designs for some models/trim levels and a few new exterior colors to be offered.
HORSEPOWER AND PERFORMANCE: The new 2022 Chevrolet Silverado 1500's updates will also include a more robust four-leaf rear suspension, suggesting this configuration will offer a more sturdy heavy-duty suspension. The standard 4.3-liter V6 LV3 engine is expected to be replaced entirely by the turbocharged 2.7-liter I4 L3B motor which kicks out 310 horsepower and 348 lb-ft of torque.
INTERIOR: The interior of the 2022 Silverado is getting a major redesign that's incorporating new accent materials, a larger center infotainment screen, and the removal of the column-mounted shifter on certain models. The truck will also feature the innovative GM Global B electrical architecture, known as the Vehicle Intelligence Platform (VIP). This intuitive platform will enable the 2022 Silverado 1500 to offer a Super Cruise semi-autonomous driver assistance system.
As always, Chevrolet keeps its tradition of quality going by providing a capable and reliable pickup that's attractive to the Silverado fanbase and newcomers to the Chevy family. The 2022 Chevrolet Silverado 1500 is definitely an attention grabber with its robust presence and versatility. The all-new 2022 Chevrolet Silverado is expected to roll out at the beginning of next year. But if you are in the market for a top-notch midsize pickup now, don't hesitate to visit us at Landers Chevrolet in Joplin, MO. Browse our available selection for your Chevy Silverado today!