2023 Chevrolet Blazer Reveal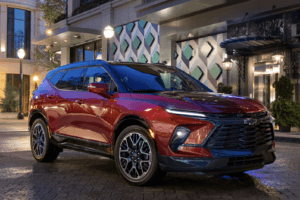 The brilliance of the 2023 Chevrolet Blazer has just been revealed! The 2023 Blazer is expected to be available within the year and we at Landers Chevrolet Cadillac of Joplin, Missouri want to bring your attention to what to expect when it gets here! With new paint options and an updated interior, the Chevy Blazer continues to be a well-liked mid-sized SUV. Check out the new Blazer features! 
Or, read about the 2022 Chevy Blazer.
The 2023 Chevy Blazer was refreshed while keeping to its unique exterior design. The Blazer will come with three new color options, which are Radiant Red Tintcoat, Sterling Gray Metallic, and Copper Bronze Metallic. Whichever paint you decide on will gleam as it works with each other exterior feature to create a distinct style. The exterior detail-oriented design is evident in a new grille and front fascia. The new bumper design holds either a 2.0-liter turbo or 3.6-liter V6 engine option. The 2023 Blazer has a nine-speed automatic transmission and up to five driving modes with the Driver Mode Selector, which could include a Sport mode or one for Snow and Ice. The Blazer has both available all-wheel drive and off-road capabilities. 
The spacious interior will include a 10.2-inch HD color touchscreen and wireless charging. You can expect a standard remote start from the Blazer and an Adaptive Cruise Control option added. The Chevy Blazer has two rows and can seat up to five passengers with ample room for any bags and cargo you may have. 
The starting price of the 2023 Chevrolet Blazer has not been released yet, but as the mid-sized SUV will be available in summer 2022, we at Landers Chevrolet of Joplin will keep you updated as we learn more! 
What do you think of the 2023 Blazer? Tell us your favorite new feature in the comments!