Basics on Towing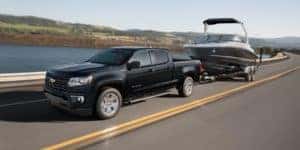 Welcome to the basics of towing with your Chevy! Whether you're renting a UHAUL and moving across the country or hitching up your boat for a summer lake trip, towing a trailer is something Chevy owners will have easy access to. We at Landers Chevrolet Cadillac of Joplin wanted to provide you with a guide of how towing works and how certain Chevys can be enhanced to make your towing experience easier and safer as well as more enjoyable. 
Any vehicle mentioned below will be using the 2022 model year vehicles as a reference. 
How much you can hitch to your vehicle is determined more by how your vehicle is made and less by how much you feel in your heart you can pull. There will be issues if you overload the trailering aspect of your Chevy vehicle. To trailer more, the vehicle itself must be built to support that extra weight you want to add, which means a shift in frames, suspension, and brakes. 
Here are extra features a Chevy can be equipped with to make towing less of a hassle: 
Cameras
Chevrolet does offer accessory cameras, with up to 15 views, to add to the front, side and/or the back of your trailer to offer more views around what they're hauling. 
Safety Features & Tech
Additional safety and technology features available for new Chevys can provide a better view of what is around you and your cargo, as well as give assistance when driving conditions may not be optimal.
If you choose to use the In-Vehicle Trailering App, you'll have access to:

Pre-Departure Checklist

Maintenance Reminders

Trailer Tire Pressure and Temperature Monitoring

Trailer Light Test

Trailer Theft Detection

Tow/Haul Mode Reminder 
The available MyChevrolet Mobile App with Trailering will come with:

Trailer Light Test 

Load Calculator 

Smart Trailer

Pre-Departure Checklists

Profile Sharing

Glossary of Terms/How-To Videos
Optional safety features to keep you in control of the trailer you're pulling include:

StabiliTrak Electronic Stability Control

Trailer Sway Control

Hill Start Assist

Integrated Trailer Brake Controller

Tow/Haul Mode

Automatic Locking Rear Differential

Digital Variable Steering Assist

Park Grade Hold Assist 

Extendable Trailering Mirrors

Hitch Guidance with Hitch View

Auto Electric Parking Brake
If attaching a trailer to your vehicle isn't something you plan on doing often, then you may not need a truck that is designed to haul 10,000 pounds (unless you just really want one). There are four basic trailer classifications when it comes to Chevy vehicles. You have light-duty, medium-duty, heavy-duty, and maximum heavy-duty vehicles. 
Here's how much weight Chevy vehicles can tow, in ascending order: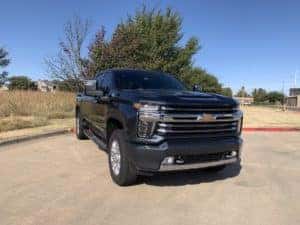 Trailblazer – 1,000 pounds
Equinox – 1,500 pounds
Blazer – 4,500 pounds
Traverse – 5,000 pounds
Colorado  – 7,700 pounds
Suburban  – 8,300 pounds
Tahoe – 8,400 pounds
Express 2500/3500 passenger van – 9,600 pounds
Express 2500/3500 cargo van – 10,000 pounds
Silverado 1500 – 13,300 pounds
Silverado 2500 HD – 18,510 pounds
Silverado 3500 HD  – 36,000 pounds
Trailer Tricks
The chains should be slightly loose so they don't hinder the trailer from making turns correctly, but tight enough that they do NOT drag on the ground. 

Have a spotter or utilize the backup camera to help you line up the hitch with the trailer.

Know which hitch is right for you.

Know how much your Chevy can pull. The maximum trailer weight and Gross Combination Weight Rating (GCWR) are good to know. The GCWR includes the weight of the cabin and the trailer. Don't forget to include the weight of your passengers and anything within the cargo bed; do not exceed the weight your vehicle can hold. 

When loading your trailer, you want to distribute the weight correctly. Put more weight towards the front, the part closer to your vehicle, than the back. Keep the side to side weight as close to even as possible. 

Give yourself plenty of extra room to come to a stop. 
Chevrolet wants its drivers and passengers to be safe whenever they're in a Chevy. That's why they put so much focus into making sure your vehicle has convenient towing features that also make pulling that weight easier. If you're interested in reading about other safety measures Chevy has implemented, check out our blog on the Chevy Safety Assist package. If you have any further questions on towing, leave us a comment or give us a call! We at Landers Chevrolet Cadillac of Joplin would love to help you out!